Electronic Design Sales & Prices Support About us Contact
SIGMA2 - Logic Analyzer
SIGMA2 is a powerful, fast, flexible, user-friendly and cost effective logic analyzer with extraordinary large event memory, real-time hardware compression and complex trigger logic. SIGMA2 operates on a USB port and requires no external power supply.
Features
Large event memory (256 megabit)
Real-time hardware data compression
Up to 200 MHz sample speed
Up to 16 inputs
Flexible trigger options
"Logic probe" mode
Controlled and powered by USB (Full-Speed, 12 Mbps)
Advanced software (for Windows and Linux)
➜ Comparison of SIGMA2 and OMEGA + technical details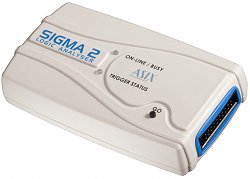 More information about SIGMA2
SIGMA2 has been designed with most important real-life user requirements in mind:
Large event memory

256 Megabit SDRAM memory is used and further enhanced using a real-time hardware compression which allows for 14 680 064 sample storage or for more than 45 minutes of recording.
Flexible input/sample speed options

16 inputs at 50 MHz (and lower sample speed, division by 2 ... 256)
8 inputs at 100 MHz
4 inputs at 200 MHz
16 inputs - sampling on change of an input signal (asynchronous clock) - trailing, falling or both edges, max. clock speed is 40 MHz at 1:1 duty
15 inputs + 1 synchronous clock input (trailing or falling edge), max. clock speed is 49.9 MHz
Complex trigger logic

Many various triggering options in the 16 inputs/50 MHz mode:

Any value or edge on any input condition
Defined duration of the condition ("longer than" and/or "shorter than")
Sequence of two different conditions
16-bit counter - triggering after N-th occurence of the condition
Extensive condition definition options using logical functions (N)AND,(N)OR,(N)XOR

Standard triggering options in the 8 inputs/100 MHz and 4 inputs/200 MHz modes - triggering on the input signal edge.

Trigger point can be placed to any position of recorded events from the very beginning to the end.
Advanced software

Personal computer requirements: Windows XP and higher, Pentium 750 MHz or faster CPU (dual-core processor recommended), at least 512 MB RAM (1 GB RAM recommended).

Software also works under LINUX (using WINE).

To illustrate the considerable capabilities of SIGMA2 and OMEGA logic analyzers we have prepared various examples of measured waveforms - USB, parallel bus (processor, display) and serial bus (I2C, JTAG, UART, SD card).
User-friendly device

Easy connection to PC - the comfortable USB interface.
Low power - no power supply adaptor needed.
Logic probe mode - SIGMA2 displays momentary logic levels on all 16 inputs.
Detailed LED indication for instant and intuitive status checking.
Fast operation - less than 1 second delay for any selected view. (Full data download takes about 90 seconds).
Input threshold level is suitable for TTL, LVTTL and 2.7 to 5.5V CMOS levels
Upgradability - due to flexible design based on Xilinx FPGAs it will be possible to upgrade and enhance SIGMA2 functionality by simple software update (e.g. frequency, period and duty cycle measurement)
Small, lightweight and compact.
More than logic analyzer

Additional debugging features will be available by software upgrades and add-on modules.

Existing software utilities for SIGMA2:

Frequency measurement - four independent channels with filtering and averaging
INSIDER - flexible monitoring/debugging tool for debugging MCUs and FPGAs (significantly enhanced replacement of discontinued product INSIDER).
SIGMA2 and SIGMA
The SIGMA2 logic analyzer is available since December 2011 and it fully replaces the old SIGMA which has been on the market since 2007 and which has been discontinued in November 2011. In comparison to the older version, SIGMA2 features the same parameters for significantly lower price!
SIGMA2 differs from SIGMA only in these points:
new plastic enclosure - smaller and lighter (an avantage if used as a portable tool)
LED indication changed - two bi-color LEDs instead of seven LEDs
a button added for comfortable start/stop of the test
SIGMA2: much less expensive - but it is not limited!
Related products
OMEGA - powerful logic analyzer with extremely large memory and High-Speed USB